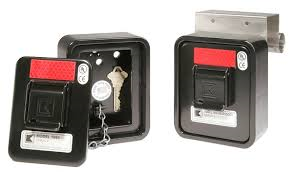 The Addison Fire Protection District has used a key box program for commercial and industrial properties with a great deal of success for decades. In 2010, we extended this program to residential properties in our response area on a voluntary basis. This program has had great success in providing nondestructive quick access to residences in the time of an emergency when a resident is unable to open the door for the firefighter/paramedics.
A key box is commercially made, secure steel box in which residents can place the keys to their home for rapid access by emergency crews. These boxes are then secured to the resident's home. These boxes can only be accessed by Fire District firefighters/paramedics and Fire inspectors by a single key that is securely kept locked on all fire apparatus and ambulances within the Addison Fire protection District.
Key boxes are currently stocked at our headquarters fire station in an effort to make this program as streamlined as possible for district residents. A key box can be obtained, free of charge, directly from and installed by the Addison Fire Protection District.
Once a resident no longer needs the key box, they can return it to the Fire District and the key(s) to their home will be removed and given back to the resident.
Should you have any questions about this program or if you are interested in participating, please do not hesitate to contact the Addison FPD Fire Prevention Bureau at 630-628-3100.